Many South African bettors want to find the best soccer betting sites because it is one of the most popular sports in the country. To help find the leading soccer betting sites and sports betting platforms in South Africa, we have created this helpful guide.
Best Soccer Betting Sites in South Africa in 2023
Currently, the best soccer betting sites in South Africa are Hollywoodbets, Betway, and Bet.co.za.
In this section, we share the top soccer betting sites' bonus details and codes.
---
---
Soccer Betting Sites in South Africa in 2023
Here, we list some of the soccer betting sites available in South Africa currently.
Each betting site has different pros and cons based on markets, odds, live streaming, and free bet offers.
However, all the platforms below are among the best betting sites for soccer in South Africa because they provide good all-around services for bettors.
Hollywoodbets
Betway
Bet.co.za
Sportingbet
Gbets
World Sports Betting
How to Choose the Best Soccer Betting Site?
When choosing a soccer betting site, there is often no one correct choice. Ultimately, choosing the right betting platform depends on what you want from a bookmaker.
For instance, some bettors may prefer promotions like free bets and accumulator bonuses. Others may look for the best soccer betting markets and some players could want reliable soccer predictions.
Doing a little research before signing up with soccer online betting sites can make a big difference long term. To get the best from your preferred bookmaker, look at these areas.
Compare Odds
Firstly, one of the best places to start is by comparing the odds at soccer betting sites. Today, players can access various online bookmaker comparison tools to compare odds for fixtures and tournaments instantly.
By checking the odds for soccer betting markets and for other sports, you can quickly see if a betting site has value from its odds. In addition, you are likely to find that some soccer online betting sites have the best odds in one market, like full-time results, but not in another, like under/over bets.
Reputation
Generally, bookmakers have different reputations in the South African and global bookmaker market. As a result, some platforms and brands are more well-known than others because they are trusted online betting brands.
Often, the betting providers that have a strong reputation are a good choice for new bettors getting started with sports betting. These established and well-known betting providers have plenty of experience in providing safe, secure, and positive betting experiences for customers in a range of countries and regions.
Due to this, consider how good a bookmaker's reputation is before you commit to them. By reading a few online reviews and looking at some customer reviews, you can get a feel of how good a bookmaker is.
Look at Promotions
Often, it is worth checking the promotions pages of your preferred bookmaker before signing up. Today, some bookmakers have lots of betting promos and offers, whereas others may only have one or two.
Ultimately, if promotions, free bets, and additional offers are what you want from your betting site, it is worth taking the time to see what is available. Also, check to see if online platforms update their promotions regularly. If they do not, it is unlikely they value promotions on their site.
Live Streaming and Live Betting
Today, modern bettors want to keep up with the sports action through live streaming and live betting features. Currently, lots of top soccer betting sites have live betting, along with in-play visualisers and statistics. Many also have updated odds to show what is happening in the match.
However, fewer betting sites have live streaming, especially for soccer matches. Before joining a brand, you can check on their live section or FAQs for what sports are available.
You are likely to find that some sites offer streaming for sports like tennis, table tennis, and esports. But, fewer soccer online betting sites will have live soccer matches available.
Registration Process
Furthermore, modern bettors do not want to spend hours or days setting up their online betting accounts. Therefore, checking out how easy the registration process is with a bookmaker is also important.
Currently, some South African platforms require more details and personal information upon signing up. Whereas others need fewer details to set up an account.
Check the FAQs
Usually, you can see how helpful a bookmaker is by looking at its frequently asked questions section. Here, you should have all the information and details you need before signing up with a bookmaker. These include answers for opening an account, making deposits and withdrawals, mobile betting, and live bets.
What are the Customer Service Options?
Lastly, another area to check before committing to a sports betting site is the number of customer service options. Often, online sites will have around two to three contact methods, such as email, phone and live chat. However, others may have just two or even one way of getting in touch.
In the future, you might need to contact the customer service team with an urgent query about your accounts or bets. Therefore, having various reliable contact options is essential for choosing a helpful online betting site.
Check Licencing
Today, every registered and legal online betting site must show its license details on its website. Therefore, you can check if a betting site is licensed in South Africa before signing up.
This only takes a few minutes to check and the details are often displayed at the bottom of a bookmaker's homepage. However, it is an essential step to ensure your safety when betting online in South Africa.
How to Register at the Soccer Betting Site?
Then, once you select the right bookmaker to suit your betting requirements, you will need to set up an account.
Often, all you will need to register with an online betting platform is your phone number, email address, full name, last name, and address. Entering your details accurately is important. At South African betting sites, Financial Intelligence Centre Act (FICA) checks are carried out to prevent money laundering,
When you are ready to sign up, head to your preferred soccer betting site homepage. Then, click the 'register' or 'sign up' button. Enter your personal details and confirm.
Usually, bettors can access their new betting accounts after pressing an email or SMS confirmation link. But, this process can take longer depending on the bookmaker.
How to Place a Bet at the Soccer Betting Site?
When you have signed up for a bookmaker, you might want to place a bet on one of the various soccer betting markets. Again, you can generally complete this process within a few minutes.
Firstly, it is important that you deposit the minimum amount into your account. Today, bookmaker minimum deposit amounts vary, but you must have some funds available to make a bet. Alternatively, you may have a free bet amount available for your registration process.
Second, once you have deposited the correct amount, browse the soccer betting markets and choose your preferred wager. Then, click the odds you want to wager on and a virtual bet slip will load. Lastly, set your stake and confirm the bet.
However, if you change your mind on a wager, most online platforms offer free cancellation on bets before the fixture begins.
Soccer Betting Sites With Best Welcome Offer
Today, most soccer online betting sites will provide a welcome offer for new players. Generally, bookmakers give a free bet or matched deposit bonus to new players who create an account.
However, qualifying criteria and terms and conditions will apply to these offers. Sometimes, this includes a minimum deposit amount and placing a specific wager on a sporting event. Below, we look at some of the sites with the best welcome offers available for South African bettors in 2023.
Bet.co.za
Currently, Bet.co.za has one of the standout welcome offers compared to other online betting sites. The betting platform will provide new players with a 100% bonus up to R1000 when bettors make their first deposit.
But, to receive the Bet.co.za welcome offer, you must create a profile and then opt in to receive the bonus via the account settings page. Then, you make a minimum R50 deposit and the bookmaker will match your deposit amount up to R1000.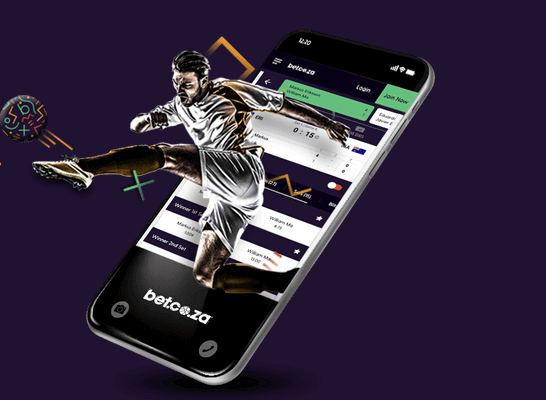 Get a 100% extra up to R5000

18+. New customers only. Min deposit R50. Max bonus amount R5000. The bonus amount must be wagered 6 times (Sports bets must be taken at single bet min odds of 7/10 or 1.70, Multiple Min Odds of 12/10 or 2.20 and each leg must be 2/10 or greater). Bet.co.za's general bonus Terms and Conditions apply.

Full T&Cs
Hollywoodbets
In addition, Hollywoodbets also has one of the leading welcome offers among South African online betting sites today. The current Hollywoodbets welcome offer gives new players an R25 free bet to use when they set up a new betting account with the provider.
To get your Hollywoodbets free bet, you must create an account in full, which includes providing full FICA information. Then, once the account is verified, your R25 bonus will be available for use on sports betting markets within 24 hours. But the bonus amount will expire if it is not used within the first 24 hours of opening your account.

Get a R25 Sign Up Bonus and 50 FREE Spins!

18+. Wagering requirement an turn over in full at odds of 5/10 (0.5 decimal) or greater. Free Spins are fixed at 60c per spin. Maximum real money payout is limited to R1 200 per player. T&Cs Apply.

Full T&Cs
Soccer Betting Sites With Best Betting Odds
As well as free bets and deposit bonuses, players looking for the best odds and soccer betting markets can find good options in South Africa. Generally, odds vary at different online betting sites and some platforms offer standout odds when it comes to soccer. Here, we provide an overview of the sites with the best soccer odds.
Gbets
One leading soccer betting site with great odds for this sport is Gbets. Presently, this online betting platform has all the popular markets covered, such as matchwinners, handicaps, under/overs, and individual player betting.
Also, the odds in these markets are impressive at Gbets, with some of the best value odds available for a range of fixtures and competitions.
But, the bookmaker also has additional odds that provide an edge over some competitor bookmakers. For instance, the site provides boosted odds for selected events and outcomes each day.
Furthermore, the provider runs the multiples of the day offer, where bettors can find the best odds for selected accumulators in soccer.
Betway
Alternatively, another soccer betting site with impressive odds and markets is Betway South Africa. Betway is one of the world's most well-known online betting providers and it has a reputation for providing good odds for bettors.
For soccer, players can access a good range of odds through various markets. For example, players can find good odds for matchwinners, both teams to score, and double chance betting.
However, the bookmaker stands out for its odds in additional markets and selections, including combination bets and build a bet. Betway provides excellent soccer betting odds through these markets. In addition, players can make their own selections when wagering on fixtures and competitions when using these functions.
100% first deposit match up to R1000.00 as a Free Bet.

18+. Bet R10 or more on selected games from 7th February to 25th March and you could win a share of R1,000,000 in cash every week. Each bet of R10 or more will earn you a point for the Mega Million leaderboard. T&Cs Apply.

Full T&Cs

Promotions for new and existing customers

Visit site
Soccer Betting Sites With Minimum Deposit
Currently, South African bettors like lower minimum deposits so they can wager flexibility and freedom when funding a betting account.
Some of the leading South African bookmakers have ranging minimum deposit limits so you can stay in control of your spending on online betting. Here, we highlight the top two South African bookmakers that have the best minimum deposit amounts.
Betway
Firstly, Betway has flexible minimum deposit amounts. The minimum deposit varies depending on the deposit method you use to fund your account. For instance, bank transfers have an R50 minimum deposit amount.
However, bettors who deposit with alternative methods, such as Ozow, can deposit a lower minimum amount at R25. Also, players wanting to send funds through credit or debit cards via the Peach Payments system can deposit amounts as low as R10.
100% first deposit match up to R1000.00 as a Free Bet.

18+. Bet R10 or more on selected games from 7th February to 25th March and you could win a share of R1,000,000 in cash every week. Each bet of R10 or more will earn you a point for the Mega Million leaderboard. T&Cs Apply.

Full T&Cs

Promotions for new and existing customers

Visit site
Bet.co.za
Also, Bet.co.za has a range of instant deposit methods with a minimum amount of R50. Bettors can select a variety of methods to fund their accounts. These include electronic fund transfers, credit or debit cards, and Masterpass.
Get a 100% extra up to R5000

18+. New customers only. Min deposit R50. Max bonus amount R5000. The bonus amount must be wagered 6 times (Sports bets must be taken at single bet min odds of 7/10 or 1.70, Multiple Min Odds of 12/10 or 2.20 and each leg must be 2/10 or greater). Bet.co.za's general bonus Terms and Conditions apply.

Full T&Cs
Soccer Betting Sites With Best Live Betting Option
Now, live betting and streaming are key features that modern bettors want from their preferred betting sites. Bettors can view live sports events, including soccer, through live streaming functions provided by bookmakers.
As a result, some of the top South African betting platforms provide a range of live streaming options for their customers so they can keep updated with the latest action. We review the best South African sites that currently offer live streaming options.
Sportingbet
Firstly, Sportingbet stands out as one of the best online betting sites to offer live streaming options. Presently, this online betting provider streams live events for soccer, tennis, horse racing, table tennis, badminton and volleyball. Also, players can easily view and select live streaming options by using the filter from the homepage.
However, to access the Sportingbet live streaming functions, bettors must first create an account and have a positive balance in their account. In addition, not every sports event from every league and tournament is covered. The bookmaker has some restrictions as many events are already covered by mainstream broadcast companies.

World Sports Betting
Also, World Sports Betting has some good streaming options that players can access today. When bettors create an account and have a positive balance in their World Sports Betting account, they can view live sports. Currently, the online platform has streaming for sports like cricket, rugby, tennis, and horse racing events.
Online Soccer Betting Explained
Betting on soccer is when a bettor places a stake on something to happen in a match. Alternatively, bettors can wager on future bets by selecting outright tournament winners in competitions like the World Cup or the Premier League.
Today, online bettors can select a huge number of bets on single or multiple soccer matches in most professional competitions in the world. Here, we provide a guide on some of the most common soccer bets available.
Matchwinner
Firstly, the matchwinner bet is a popular choice for many South African bettors. Here, you simply select the team you think will win the match. Or, you can select the outcome to be a draw.
For example, if Manchester United played Liverpool at Old Trafford, you might select United to win the match. Then, you would set your stake on the bookmaker's odds and place your matchwinner bet.
Recently, bookmakers have introduced the double chance market, where you can choose a team to either draw or win the match. In this bet, you essentially cover two bets with one stake.
Accumulator
Another popular soccer betting option is an accumulator bet. With an accumulator, you can place multiple matchwinner bets. But all the outcomes have to come in for you to win. For instance, if you select five match outcomes under one stake and four matches win, you won't win the bet.
Also, you can place accumulator wagers for alternative soccer events. For instance, you could wager on Cristiano Ronaldo to score anytime in a match and choose under 2.5 total goals in another fixture.
Future Bets
Lastly, bettors can select future bets before major tournaments in soccer. Often, players select the outright winner of a competition. But you can also bet on some of the best soccer players to win individual awards.
For example, in the World Cup, a player might select France to win the competition. But another future bet option could be for Kylian Mbappe to score the most goals and win the Golden Boot award.
Best Soccer Betting Sites in South Africa FAQs
In this section, we answer bettors' common questions about the top soccer betting sites in South Africa.
Are soccer betting sites legal in South Africa?
Yes, most online betting sites are legal in South Africa. All legal betting sites on the counter will have licenses from the Western Cape Gambling and Racing Board or any of the other official regional gaming boards. Before joining any online bookmaker, always check to ensure it is safe, secure, and fully licensed to operate in South Africa. 
What is the best soccer betting site?
Currently, Betway, Bet.co.za, and Hollywoodbets offer the best soccer options online. These sites have strong all-round options for soccer betting, including good odds, markets, and promotions for new and existing customers. 
How can I bet soccer online in South Africa?
Firstly, you must create an account with an online bookmaker. Then, you can place a deposit and select your preferred wager from a range of betting markets. However, you cannot place any soccer bets without creating an online betting account with a registered betting provider. 
How can I win at soccer betting?
All sports are unpredictable and there is no way to win when placing a soccer bet. Sometimes, you can use strategy and tips to help make an informed decision. But, because nothing is guaranteed in soccer, you are never certain to win.