Boxing is one of the most popular sports in South Africa, and many bookmakers offer to bet on boxing matches. So we analyzed the major bookmakers in South Africa and compiled a list of the best boxing betting sites in South Africa. Some factors make the best betting sites perform better than others, and we listed those factors too.
Best Boxing Betting Sites in South Africa
Here are some boxing betting sites in South Africa.
---
---
Boxing Betting Sites in South Africa in 2023
We have listed below some of the best boxing betting sites in South Africa. It is not an exhaustive list, but it contains all the sites that meet the standard after we tested them.
Hollywoodbets
The bookmaker is one of the first betting sites in South Africa and has a good range of sporting events on the website, one of which is boxing. Hollywoodbets prides itself in maintaining a high standard over the years since it started operating in 2006.
The bookmaker has redesigned its website and offers several bonus offers for sports games. You can access the boxing section on the Hollywood website by clicking on the option from the side menu.
From there, you can choose the match you want to bet on, select the betting market, which is mostly a match-winner market, and then place your bets. It is that simple to use the Hollywoodbets platform.
Get a R25 Sign Up Bonus and 50 FREE Spins!

18+. Wagering requirement an turn over in full at odds of 5/10 (0.5 decimal) or greater. Free Spins are fixed at 60c per spin. Maximum real money payout is limited to R1 200 per player. T&Cs Apply.

Full T&Cs
Betway
The next bookmaker on our list is the international bookmaker Betway. With an easy-to-use website, mobile site, and mobile app, Betway provides the most channels to bet on boxing games in South Africa. Another place the bookmaker shines well is in the payments options section.
You have virtually all the payment options in South Africa on Betway, so you can easily deposit money, unlock the welcome bonus, and place boxing bets on the bookmaker.
In addition, Betway offers popular boxing matches and has more betting markets than other bookmakers. Betway also offers one of the best live betting sites for boxing, and you will just have to get the app to be notified of the matches beforehand.
100% first deposit match up to R1000.00 as a Free Bet.

18+. Bet R10 or more on selected games from 7th February to 25th March and you could win a share of R1,000,000 in cash every week. Each bet of R10 or more will earn you a point for the Mega Million leaderboard. T&Cs Apply.

Full T&Cs

Promotions for new and existing customers

Visit site
Bet.co.za
The bookmaker is a local bookmaker but is known for the number of bonus options it offers to new and old customers. In addition, the Bet.co.za website is one of the best-designed boxing websites in South Africa. You can simply access the boxing section from the home page, select an event to make the predictions, and then place boxing bets.
Get a 100% extra up to R5000

18+. New customers only. Min deposit R50. Max bonus amount R5000. The bonus amount must be wagered 6 times (Sports bets must be taken at single bet min odds of 7/10 or 1.70, Multiple Min Odds of 12/10 or 2.20 and each leg must be 2/10 or greater). Bet.co.za's general bonus Terms and Conditions apply.

Full T&Cs
Sportingbet
Like other bookmakers, Sportingbet comes with a well-designed website and a boxing section containing the most popular fights. The good thing about Sportingbet that you won't see on other bookmakers is that the boxing matches are arranged according to weight classes.
This way, you can easily search for, find, and bet on a particular boxing match. The odds are very competitive on Sportingbet, and you will enjoy betting on boxing matches on the bookmaker.
Gbets
As one of the bookmakers with the largest sportsbook, Gbets makes the list as one of the best boxing betting sites in South Africa. This bonus gives you more opportunities to use placing boxing bets and other sports games as well.
World Sports Betting
Like Hollywoodbets, World Sports Betting is an older betting company that has now modernized its services by providing them online. However, the bookmaker's website now looks updated. But this has not stopped it from offering betting services, especially for boxing.
You can access the boxing section by searching and clicking it on the menu on the left side of the homepage. Once you are in the boxing section, you will see a list of boxing events. Choose the game you want to bet on, select a market and make a prediction.
How to Choose the Best Boxing Betting Site?
Most betting sites offer boxing betting, but before you choose any site, you must make sure it offers the best services. There are several factors to consider before you make a choice. We have listed and analyzed the most important factors to consider before choosing a boxing betting site below.
Best odds
One of the most important factors is the odds offered. This is a picture of how important the bookmaker takes the boxing betting game. Most times, the difference in odds is not so much due to the ease of matching the odds from other bookmakers.
It can be 0.1 or 0.01 points different, but that represents how much the bookmaker values its boxing betting customers.
Of course, you can always compare and contrast the odds by visiting the different betting sites and checking out the odds in the boxing section. You can also check whether the bookmaker has any odds booster promos and how often it changes its odds to match the true nature of the probabilities. The bookmaker with the most competitive odds is Hollywoodbets.
Wide range of markets
The range of markets a bookmaker offers is very important as it will give you options to place more bets and make better predictions. Like with betting odds, you can simply check out the range of markets by visiting several bookmaker websites and looking at the boxing section.
Also, since boxing has several games that are held without any single league organising it, you must ensure the bookmaker offers most of the popular boxing matches you may want to bet on. The bookmaker with a good range of boxing betting markets is Sportingbet.
Welcome bonus and other promotions
To make the most of your betting funds, you can use the welcome bonus and other promotions. You can use this extra money to bet on boxing and other sports games.
Some other bookmakers can also have specific boxing promotions that you can unlock when you meet the wagering requirements outlined by the bookmaker. For example, several bookmakers offer a welcome bonus in South Africa. An example of bookmakers that offer a unique welcome bonus is Gbets.
On Gbets, when players register and make their first deposit, it will be matched. And on World Sports betting, you get a bonus after registering a new account, you can use this bonus to bet on the boxing section.
Mobile app
A good test of how easy it is to bet with a particular bookmaker is whether it has a mobile app to bet on the go. Mobile apps have become very necessary for bettors to easily access the several features of the bookmaker on the go.
Some bookmakers offer just a mobile site, but some go further to offer one app for maybe one operating system like the Android OS. But some even go one step further and offer an app for Android and iOS operating systems.
With the mobile app, you have better security and a notification feature that can alert you to place bets on boxing matches or cash in on time-limited promotions the bookmaker offers. Betway is a bookmaker that offers a complete mobile site and mobile apps for the two major mobile operating systems.
Live betting
You can enjoy your betting more when you are more invested in the process, which is made possible when you bet live. It is also more interesting as you can easily place your bets, and it will get settled once your predictions are correct, or you lose if your predictions are wrong. Several bookmakers offer live betting.
With these bookmakers, the live betting option can be located at the top of the page and once you click it, select the boxing section to see the live betting action on boxing games.
The odds and range of markets available fluctuate easily to reflect the situation of the boxing match. Some bookmakers that offer live betting include bet.co.za and Gbets.
Payment options
To make betting seamless, you must be able to easily deposit money to unlock the welcome bonus and have money to place bets. So it is important to check out the payment channels offered by the bookmakers you plan to use. In addition to the deposit channels, the withdrawal channels can mean that it will be simple enough to withdraw any money you get from betting.
Some bookmakers like Betway offer almost every option for paying in South Africa, from mobile money to vouchers and electronic funds transfer (ETF) from the major banks.
Security
Since you will be uploading your private and financial information and depositing your money with this bookmaker, the more secure the betting site is, the better. Most bookmakers we tested have implemented the latest security protocols on their sites and keep updating them.
The first step to checking the security of a website is to check whether it has the 'HTTPS' protocol set up in the URL section. If that checks out, you can now go ahead to understand the privacy policy and the security process for receiving and making payments. These basic processes will help tell you how much secure the website is. A good example of a bookmaker with a secure website is bet.co.za.
Licenses
The last but very important factor is the bookmaker's license. This license gives it legal footing to set up a betting site in South Africa.
The betting regulation in South Africa is very strong, so before any bookmaker can set up its website, it must be licensed. So while most of the popular and well-known bookmakers are licensed, it is important to check for licenses when betting with relatively unknown bookmakers. T
his protects you from falling victim to fraud or mismanagement of your funds. Also, very importantly, you don't want to be breaking any law by 'doing business with an illegally set up betting site. So always check for the license number and cross-check it with the one on the regulator's website.
Top 3 Boxing Betting Sites in South Africa
Almost every bookmaker has a boxing section, but some bookmakers have developed better boxing sections than others. Here are the top 3 boxing betting sites in South Africa.
Betway
Betway is one of the top 3 boxing betting sites for 2 reasons. The first is the welcome bonus. You have an opportunity to get the first risk-free bet of R25. This extra money gives you the freedom to learn the ropes of boxing betting before using your real money. The second is the mobile app, which allows you to place bets on the go.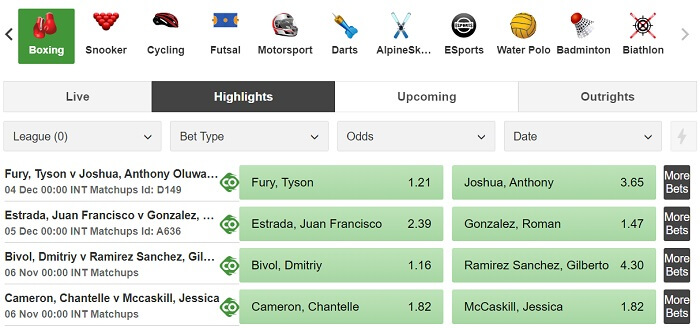 Hollywoodbets
With its redesigned website and easy-to-use signup bonus, Hollywoodbets is a top 3 boxing betting site. Once you sign up, you can use the free R25 to place a boxing bet if there is an available game.
Bet.co.za
Bet.co.za rounds up the list of the top 3 boxing betting sites in South Africa. The bookmaker has a wide range of boxing events and betting markets. The boxing odds on bet.co.za are very competitive, which shows how much they are invested in boxing betting.

How to Register at the Boxing Betting Site?
Before you can go ahead to bet on any boxing betting site, you must complete the registration process of the bookmaker you hope to bet on.
The registration process for most South African bookmakers is almost similar because, due to regulation, the registration process asks for every piece of information necessary for the KYC process.
Therefore, we have tried to outline a generic registration process that will work for most bookmakers. To complete the registration process, follow the steps below.
Visit the bookmaker's website, or use the USSD/SMS code
The first step is to visit the bookmaker's website and click the 'Register' or 'Sign Up' button. You can easily see this button at the top of the homepage. Alternatively, you can use the USSD or SMS option to complete the registration process if the bookmaker offers it. You can check for this by visiting the FAQ page.
Fill out the required information.
If you follow the online registration process, you must input your personal and contact information on the registration form. Some of the information you will enter will include your full name, email, phone number, address, region, the type of ID you want to use, and the ID number.
Confirm/verify your contact information
When you click the 'Register' button, you will receive a link in your email or SMS on your phone number to confirm and verify your contact information. Once you click the link, this will verify your information, and you can start using the bookmaker's features.
Complete the FICA documentation
Completing the FICA documentation is the very last process. Even though it is not technically part of the registration process, it is important as you can't fully use every feature the bookmaker offers if you don't complete it.
To complete this process, you must upload your FICA documentation to the portal of the bookmaker or scan the documents and send them to the bookmaker's support team.
How to Place a Bet at the Boxing Betting Site?
While there is no standard website outlay for betting sites, most bookmakers try to stick to a particular pattern that makes the website easy to navigate. So just like the registration process, placing a bet on any boxing betting site is a straightforward process and similar to other bookmakers.
So we will look at a generic process of placing a bet on a boxing site below.
Visit the bookmaker's website and login
To access the boxing markets of the bookmaker you want to bet on, you must visit the website, enter your login details, and log into your account.
Choose between pre-game betting and live betting
After you are logged into your account, you now have to choose between live betting and pre-game betting. While pre-game betting offers you the chance to review your choices and properly analyze the game before betting, live betting is more involved.
You have to be more decisive at the moment to capture the value odds in the live betting markets. Click on the 'Live' tab at the top of the page and select the boxing section for live betting or search for the boxing section from the homepage to go to the pre-game betting section.
Select the boxing betting games
Once you have selected whether live betting or pre-game betting, choose the boxing games you want to bet on and select them by clicking on the match title.
Make your predictions and place bets
At this step, you can make your predictions on the games you want to bet on. After making your prediction, you have the option to add other games, whether boxing or other sports, to the bet slip. Once you have added the number of games you want to bet on, enter the stake amount and click on the bet button to bet on the game.
Boxing Betting Sites with the Best Welcome Offer
Most bookmakers offer a welcome offer for boxing, but some offer a better welcome offer with moderate wagering requirements than others. We have analyzed two boxing betting sites with a good welcome offer and how to unlock and utilize them.
Betway
Betway is a boxing betting site that offers a simple welcome bonus; a free R25 to use to place your first bet. The bookmaker will credit the bonus after you complete the registration and upload your FICA documents. You can then go ahead to place bets in the boxing section with this bonus.
Hollywoodbets
The second boxing betting site with a welcome bonus is Hollywoodbets. And unlike most South African bookmakers, Hollywoodbets maintain the original welcome bonus, which is an R25 free bet that you get once you complete the registration process of the bookmaker.
You can use the risk-free bet to place boxing bets, but you must use it within the validity period.
Boxing Betting Sites with the Best Betting Odds
When it comes to boxing odds, most bookmakers offer similar odds. However, what makes a bookmaker better than another in this area is whether it has other features, such as odds boost or a feature like a bet builder, which makes the best of the same odds. So first, we look at the top two major bookmakers in this area.
Gbets
The boxing odds on Gbets are always one of the best, but the bookmaker also offers accumulator bonus options that even make them better.
World Sports Betting
The boxing section on World Sports Betting has the biggest betting market and competitive boxing odds. There are always odds boosts for select sports, which include the boxing market.
Boxing Betting Sites with Best Live Betting Option
Most betting games last for more than an hour, and some that last for more rounds can last as long as 3 hours. This makes it a good sport to place live bets on. A few bookmakers offer a wonderful live bet experience, and we analyze them below.
Sportingbet
You can simply place a live bet on the Sportingbet website by clicking the live betting option. However, due to the sparse nature of the game, sometimes the events are in the future. You can still place live bets by returning to the website at the time of the match
Hollywoodbets
Another bookmaker that makes this list is Hollywoodbets. The same steps above for placing live bets on Sportingbet apply to Hollywoodbets.
Online Boxing Betting Explained
Boxing is a sport that attracted betting from the time of its origins. While very popular in the heydays in the era of the great Muhammed Ali, Joe Frazier, Mike Tyson, and the rest of the greats, boxing is not as popular as it used to be. However, you can always enjoy betting on boxing games online.
Boxing is regulated but fragmented in many places, so most fights are arranged between promoters and the fighters. This arrangement is unlike what you will see in sports like soccer, basketball, cricket, etc. which have governing bodies from local levels (think the local F.A) to global levels (FIBA, ICC, etc.).
However, this doesn't take away from the betting appeal of the game.
There are several ways to bet on boxing matches. The most popular is the match winner (1×2), where you bet on the winner of the fight. You can also bet on the over/under, which is simply the number of rounds it will take for the match to finish.
The third popular betting market is the stoppage or knockout market, where you bet on how the match will end, whether knockout or stoppage.
The final thing to know about online boxing betting is that you can always analyze the matches before betting by checking records online. This analysis is simpler than other sports, as you can see from a glance who has the upper hand in the game.
Best Boxing Betting Sites in South Africa FAQs
To end this comprehensive article on the best boxing betting sites in South Africa, we have attempted to answer some frequently asked questions about the best boxing sites we have analyzed below.
What is the best betting site for boxing in South Africa?
There are several best sites for boxing in South Africa, depending on the factors that are important to you. If you prefer welcome bonuses, you will like World Sports Betting and Gbets. If you like a bookmaker with mobile apps, then Betway will be your best option. If you like a bookmaker with more ongoing promotions, you can consider bet.co.za.
Can I legally bet on boxing?
Yes, betting on boxing is legal in South Africa. Although you have to make sure you are placing bets on a bookmaker that is registered and licensed to operate an online bookmaker in South Africa.

Some of them include bet.co.za, Betway, Hollywoodbets, Gbets, and World Sports Betting.
Where can I bet on fights?
There are several betting sites you can bet on fights. Some include World Sports Betting, Gbets, Betway, Hollywoodbets, bet.co.za, and Sportingbet.
Can I bet on boxing on Betway?
Yes, you can bet on boxing on Betway. On Betway, you can bet on pre-game or live betting on the bookmaker's three platforms – the desktop site, mobile site and mobile app.
Which is the best betting app for boxing?
There are two bookmakers with the best betting apps for boxing betting. There are bet.co.za and Betway.